• The GGPB concert season begins in April and continues most Sundays until October.
• Concerts begin at 1:00 p.m. and last about two hours.
• Concerts are performed in the Spreckels Temple of Music at the Music Concourse in Golden Gate Park.
• The Golden Gate Park Band has been playing free public concerts on Sundays in Golden Gate Park continuously since September of 1882.
• The GGPB is one of the last big-city outdoor bands to present a full season of free concerts.
The Golden Gate Park Band is a non-profit organization sponsored by the Recreation and Park Department of San Francisco. Donations to the GGPB fund are tax-deductible.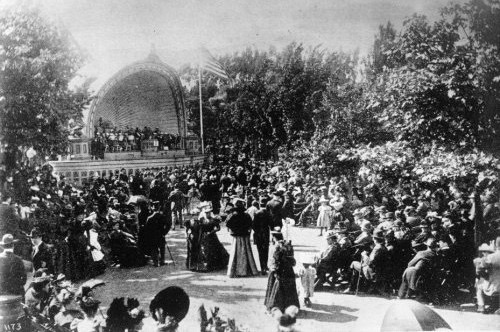 The Band offers a variety of music at its concerts including classic band favorites, operas, marches, Broadway show tunes, orchestral transcriptions, novelty tune, folk music, big band swing music and original works for concert band. Throughout the season, the Band features soloists from within its membership as well as guest artists.
Each season, the Band collaborates with various ethnic and arts groups in San Francisco who bring to the concert their dance groups, costumes, singers, and music. For example, a season may include Mexican, Polish, Armenian, Italian, African-American, French, Hungarian, Ukrainian, and Spanish music and dance.
The band is a professional organization of highly skilled members of the American Federation of Musicians Union Local #6.
Help support the GGPB by attending performances, telling your friends, and by giving generously.